Camp Information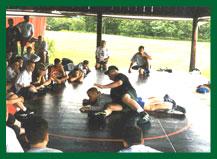 Camp Location:

George School
1690 Newtown Langhorne Road
Newtown, PA 18940-2414
Our Camp Sponsor GameFaceRecruit.Com
REACH OUT TO EVERY COLLEGE COACH IN THE NATION
College coaches cannot scout every deserving athlete. Time and budget prevents them from doing so.
As a prospective student-athlete, you should be interested in continuing your athletic career in college. GameFace Recruit helps thousands of student-athletes get noticed, market themselves, showcase their talents and gain an advantage. You cannot wait for college coaches to approach you. There is a college for every student-athlete but the fact is that most players go unnoticed. Pursuing college coaches aggressively, through GameFace Recruit, provides High School Athletes national exposure using
techniques that demand attention. Families learn about the recruiting process * the college funding secrets that lead to getting the maximum amount of money towards the high cost of a college education. Visit GameFaceRecruit.com at www.gamefacerecruit.com
Other sponsors include Mannatech Nutrition and TAKKLE.COM. We
are always keeping up with the latest in sports performance and sports nutrition, and these two companies provide an invaluable service to WCSP Camps.